Retail Store Open Every Saturday 10 am t0 2:30 pm

Please join our e-mail list for news about our retail days, special events, and to receive special offers and a "secret retail day" for our e-mail list members only. To join, please go to our
email list sign-up page
. We now have Grateful Bread t-shirts, sweatshirts and gift cards for sale!
We are located at 425 Violet Street near the intersection of 6th Avenue and Highway 40 (Colfax). We are at the far eastern edge of Golden, only 15 minutes or so from downtown straight west out 6th Avenue. There is plenty of free parking in our lot, so you don't have to worry about finding parking. Click
HERE
for directions to the bakery.
---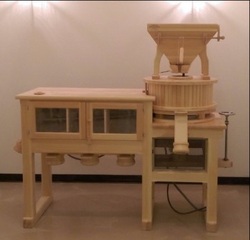 Retail Store: Our retail store at the bakery is open every Saturday from 10 am to 2:30 pm offering a variety of fresh-baked handmade artisan breads, pastries and pretzels. This week we'll have our new Scottish Peat Smoked Barley and Rye, several types of Sourdough, Emmer Wheat Boules plus blue corn and yellow corn grits and whole wheat flour milled with our beautiful new Austrian pine stone flour mill. We will also have our new Chocolate Babka Rolls, one of our most decadent and tastiest pastries, and Chocolate Babka Loaves, both made with chunks of Belgian dark chocolate, plus our usual assortment of fresh handmade artisan breads and pastries available this Saturday from 10 am to 2:30 pm. See you there!

---
Items we normally have each week (plus rotating special items):
16 Grain Loaf
Ciabatta
Country Batard
Cranberry Walnut Batard
Emmer Wheat Boule
French Baguette
French Batard
Hoagie Rolls
Honey Wheat Loaf
Jalapeno Tillamook Batard


Lavender Sourdough Boule
Levain Boule (whole wheat sourdough)
Quinoa Loaf
Rye Loaf
Scottish Peat Smoked Barley & Rye
Sourdough Loaf
White Loaf
Almond Croissant
Almond Grateful Bun
Babka Roll & Babka Loaf


Bretzel Roll
Cinnamon Roll
Dark Choc Almond Croissant
Dark Chocolate Croissant
Epi – Small Plain & Seeded
Grateful Bun
Jalapeno Tillamook Pretzel
Plain Croissant
Plain Pretzel
Potato Hamburger Bun
Sticky Bun

Grateful Bread Company is a local, family-run Denver bakery where we make everything entirely by hand using only the finest natural and organic ingredients in all our products. You can find our bread in many of the top restaurants and hotels in Denver. Our large custom handcrafted stone grinding flour mill recently arrived from Austria, so we're now offering freshly milled grits and whole wheat flour for sale as well. We're meeting with local farmers to grow organic grains for us in the coming year.

Grateful Bread Retail Store:
425 Violet St., Golden, Co 80401
Open every Sat from 10 am to 2:30 pmClick
HERE
for directions to the bakery.