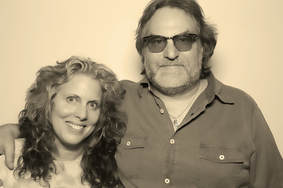 Our Story
In late 2002 Jeff Cleary and his wife, Kathy Mullen, used their life savings to open Intrigue restaurant, where everything was made from scratch and painstakingly cooked to order, including the sauces for every dish. There was a small bakery at the back of the restaurant where Jeff baked all the bread for Intrigue, then he began baking bread for Frank Bonanno for Mizuna and several other restaurants. Just when Intrigue was gaining momentum, Spring 2003 happened (Denver was hit with 4+ feet of snow, shutting down the city for over a week, and the same week the US invaded Iraq and the stock market plunged). Jeff and Kathy didn't have the resources to weather the downturn in Denver's economy, so they were forced to sell the restaurant in 2005 and that's when Grateful Bread was born.
Taking one wooden baking table, one 20 quart mixer and one small battered 6-tray electric oven, Jeff moved the baking operation to a 400 sf cabin in Evergreen, working nonstop over 110 hours a week, doing all the mixing, shaping, baking, deliveries, sales, orders, and billing himself. Jeff only took 4 days off the entire year of 2006. Meanwhile Kathy worked 2 and 3 jobs in order to keep things afloat.
Jeff and Kathy toiled quietly to built Grateful Bread's reputation among Denver's best chefs,
and it took years for the bakery to become profitable (in 2013 Kathy and Jeff took their first vacation in 12 years).
Grateful Bread grew slowly without compromising Jeff's original dedication to handcrafting each piece of bread using the highest quality ingredients,
and by 2008 Grateful Bread had outgrown its tiny space, so they moved the operation to a 2000 sf space in Golden near the intersection of 6th Avenue and Hwy 40, only 15 minutes west of downtown Denver.
They expanded twice and now occupy nearly 8,000 sf of space, and just modified a room for their new custom Austrian stone flour
mill
.
They feel fortunate to have clients who appreciate what it takes to make a truly authentic handcrafted loaf of bread, and especially fortunate to have bakers with a passion for using old world methods to create breads they can be proud of.
---